My Swatch
A once in a lifetime opportunity. For the first time Swatch will offer an individual the possibility to create a very personal interpretation of the Swatch style. Working with a Swatch designer the buyer of MY SWATCH will collaborate to produce a limited edition of 100 pieces celebrating philanthropic spirit.
This project honors the historic partnership between God's Love We Deliver, Sotheby's and Swatch.

Priceless (no minimum bid)
Final bid USD 40,000 (bidder from New York, it was Henry Buhl)
Henry Buhl created the Gent Finger Nails (GZ183). It features a photo taken by the late Helmut Newton: California Finger Nails Hollywood (1981)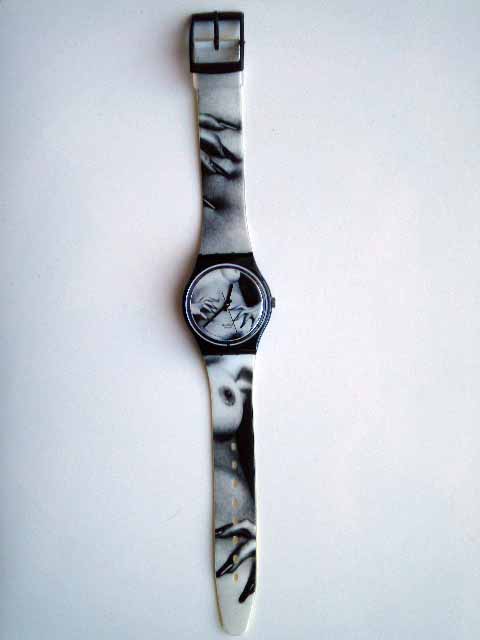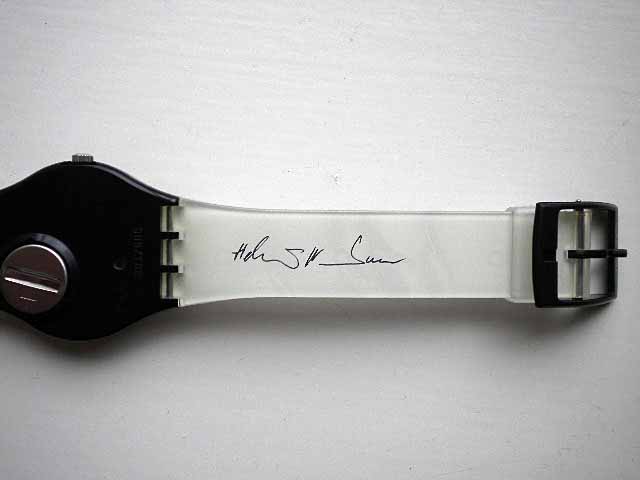 Quite a few Fingernails watches have been sold in aid and for the benefit of the Association of Community Employment Programs for the Homeless (ACE), a charity founded by Henry Buhl.
I assume that no more than 20 pcs are in "circulation". A few collectors bought privately from Henry Buhl: definitely #006/100 (in 2010), #014 and #017/100 (in 2015). Possibly some more.
#001/100 is in the hands of an important Swatch collector in the USA (in DEC-2020).
#003/100 is now part of the famous Haas collection:
#008/100 is in the hands of a private collector.
#009/100 was
auctioned on 24-NOV-2011
for HK$156,250 (about $20,000 US) during the
Blum Collection auction
.
#010/100 was
auctioned on 14-NOV-2014
for an unknown amount (did it sell?)
#010 and #011 were available on
ahalife.com
for $12,500 US (shipping from Swatch, Zurich, Switzerland). Did they sell?
Another one (unknown number, probably #003/100 [see above]) was auctioned in 2004 on the Swatch website for $13,500 US: